By NIMMI PRASAD
Occasionally, we all scream for ice cream—whether while running after the neighborhood blaring truck or on one of the sweltering days of summer. But when's the last time an ice cream flavor made you want to scream? The extraordinary examples below, including a Blue Cheese and Caramelized Shallot creation and a Curry Carrot concoction, are so unusual in their ingredients and flavor pairings that they're sure to provoke some sort of reaction from you—whether of pleasure, confusion or just plain brain freeze. That's the scoop; now, dig in!
There are very few who hate ice-cream. From being a palatable breakup remedy to a late night snack, ice creams are loved at any time. But as much as it's tasty, it's also not the healthiest things you can possibly have. In fact, having it on a daily basis, can be anything but healthy.
What if we tell you that now you can have ice cream with health benefits? It's true. You can now have your bowl of happiness with a healthy twist to it.
These ice cream are invigorating, light, and chock-full of bone-healthy calcium.
Lemon-Buttermilk Ice Cream
Five simple ingredients never tasted so good! Combining fresh lemon juice with sugar adds just enough citrus flavor without making the dessert too tart. The recipe uses fat-free buttermilk mixed with whole milk to get a creamy texture, without all the added fat. Though this frozen treat is kid-friendly, the hardest part is waiting the hour for it to freeze.
Jackfruit Ice Cream, India
I know, I hadn't heard of jackfruit before either. However, this sweet tasting fruit that flourishes mostly in hot climates like India might be my new favorite ice cream flavor. Because you might not be able to get it in North America (unless you venture out to find it at an Indian or Jamaican-specific market) imagine jackfruit ice cream as a creamy, sweet spoonful of Juicy Fruit-flavored gum.
Homemade Peach Ice Cream
This recipe combines two summer specialties: ice cream and fresh fruit. Using calorie-free sweetener and fat-free milk cuts calories, without cutting any of the sweet taste. Plus, the almond extract adds a nutty flavor that goes perfectly with the tangy peaches. It's great served alone, or with an almond biscotti.
Try this recipe: Homemade Peach Ice Cream
Key Lime Pie Ice Cream.
This ice cream has all the flavors of classic Key lime pie—even the crust. The recipe calls for bottled Key lime juice for convenience, but you can also squeeze the juice from fresh Key limes if your supermarket carries them. Though it's more than 300 calories per serving, it cuts 150 calories off a small slice of Key lime pie and packs over 25% of your daily calcium
Try this recipe: Key Lime Pie Ice Cream
Banana Ice Cream

This homemade ice cream is easier than you ever imagined. More important, it's low in sugar and calories, and high in omega-3s, fiber, and Resistant Starch, a healthy carb that boosts metabolism and burns fat.
Try this recipe: Banana Ice Cream
Warm Oranges in Sake Cream with Sesame Brittle

This gourmet dessert will impress your friends both in taste and appearance. Sake lends sweetness to the cream, plus a subtle nutty top note that complements the brittle. The oranges bring vitamin C and the sesame seeds are a good source of iron and zinc. Though the ice cream is fat-free, the rich sake cream creates a completely sinful flavor.
Try this recipe: Warm Oranges in Sake Cream with Sesame Brittle
Beer Ice Cream, Munich, Germany
From the famous beer gardens of Munich, Germany comes a new way to sample craft-beer. Instead of a frothy pint, order up a hearty scoop of Bavarian wheat-beer ice cream, Guinness ice cream, or a brew pop made with a variety of sweeter Belgian fruit ales. Prosit!
Caviar Ice Cream
Sweet tooths be warned: The main ingredient in this scoop—60% white sturgeon Alverta Royal Petrossian caviar—means this dish isn't destined for the dessert course. The exclusive (and expensive) offering of gourmet French ice cream company, Philippe Faur, this concoction is arguably the most unusual addition to the company's lineup of 73 impressive flavors. Though only available in France, curious global consumers can get the product shipped internationally in special packaging that prevents melting for up to 72 hours.
Blue Cheese and Caramelized Shallot Ice Cream
This pungent creation made its ironic debut at a book launch for a new ice cream and dessert volume, The Book of Sweet Things. Irish brothers and co-authors Sean and Kieran Murphy set out to showcase a local blue cheese in this groundbreaking dish, which they describe as a flavor only fit for the non-faint of heart. Ingredients include sugar, egg yolks, cream, milk, milk blue cheese (they used Ireland's Wicklow Blue), banana shallots and butter/oil.
Lavender Ice Cream, France
Was there any doubt that the French would deliver the classiest sounding ice cream? And lavender ice cream is made using the aromas of flowers. If lavender is not reminiscent of romance, you can choose another flavor—such as poppy, rose, jasmine, violet, rosemary, or thyme. Oh la la!
Fig & Goat Cheese Swirl Ice Cream
Mike's Table—a blog which features the "experiences, experiments and edible things" hailing from Florida-based chef Michael Mulligan's kitchen—holds the birthright to this creamy concoction. Inspired by the simple yet wonderful flavor pairing between figs and cheese, he created separate batches of fig and goat cheese ice cream, which were then mixed together to produce this gorgeous pink-and-aubergine hued masterpiece that carries the distinct, tangy flavor of goat cheese.
Candied Bacon Ice Cream
Curious to see what would result from marrying all his favorite ingredients together, The Perfect Scoop author David Lebovitz got to work combining bacon, eggs and a healthy dose of calories (i.e. butter and half-and-half) to produce this one-of-a-kind creation. After candying thick strips of bacon with a generous sprinkle of brown sugar, Lebowitz crumbled the crispy-sweet strips into a batch of homemade rum-flavored ice cream.
Curry Carrot Ice Cream
Not Eating Out In New York blogger Cathy Erway adapted this unique dish from a recipe she found in cookbook Asian Ice Cream for You and Your Kids. By putting a Western spin on the volume's Japanese Curry Ice Cream recipe, she ended up with an icy concoction that combines heavy cream, milk, coconut milk, egg yolks, brown sugar, curry powder, a squirt of lemon or lime and shredded carrots.
Bourbon and Cornflake Ice Cream
San Francisco-based ice cream shop Humphrey Slocombe, owned and operated by chef Jake Godby, has been frozen in the spotlight for their bizarre flavor combinations, including Strawberry Candied Jalapeno, Balsamic Caramel and Pistachio-Bacon. The photo above depicts their "Secret Breakfast" flavor—a creamy vanilla ice cream that's spiked with bourbon (the "secret" part) and cornflakes (the "breakfast" portion). Godby has been quoted in the New York Times as saying, "There's a whole world out there beyond chocolate, strawberry and vanilla…I'm just trying to have some fun." We'll say.
Turmeric and Coconut Ice Cream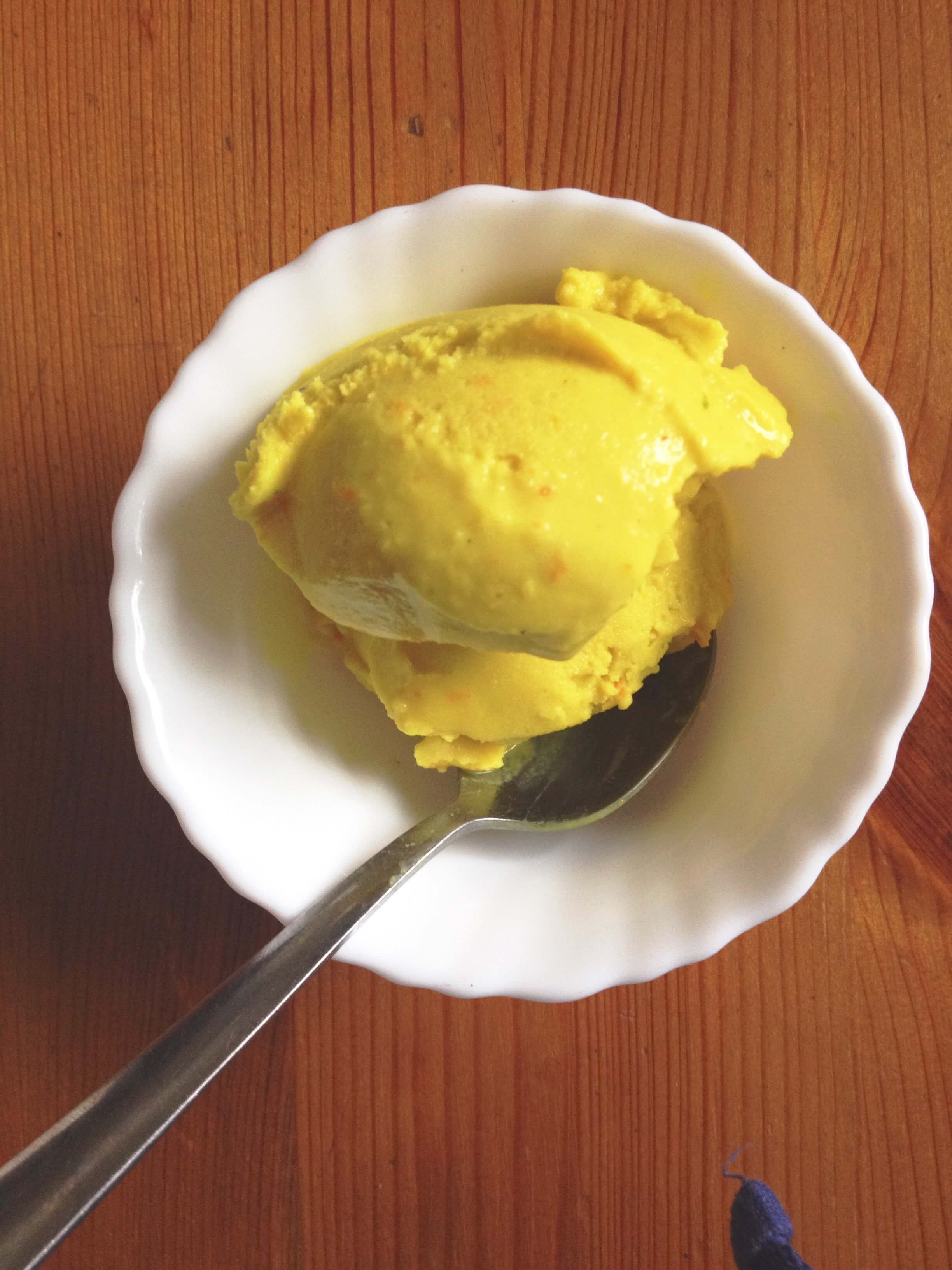 There's now a turmeric and coconut ice cream you can make at home, and add that dash of goodness to your dessert. Both turmeric and coconut, known for their rich properties and antioxidants, can be the perfect healthy goody. This recipe fromPaleo Hacks needs no ice cream maker (or hassles) to be made.
Did sombody just make a recipe for heaven?